Look What's Happening at the Farmers Market
Now Open on Tuesdays and Saturdays
Check out what's happening this Tuesday!
1006 Peachtree Street in Rocky Mount
MARKET HOURS
SATURDAYS – 8 a.m. to 1 p.m., April through November
TUESDAYS – 4 p.m. to 7 p.m., June through August
Shop Fresh Local Produce
Homemade Baked Goods and Breads,
Meats and Seafood and Homemade Crafts
PRODUCE ITEMS AVAILABLE THIS WEEK
Corn  –  Spring Onions   –   Tomatoes   –   Sweet Potatoes
Lettuce   –   Microgreens   –   Mushrooms
Pecans   –   Peanuts   –   Greens   –   Turnips   –   Radishes
Cucumbers   –   Beets   –    Cabbage   –  Broccoli
Zucchini  –  Yellow Squash  –  Peas  –  Blueberries  –  New Potatoes
Green Beans  –  Peppers – Bell, Jalapeno and  Banana  –  Cherry Tomatoes
Plus . . . Corn and Peaches are here!
This is a partial list – items are subject to change.
Times and days are subject to change.
Don't Miss This Tuesday – June 18th
Featuring FREE Live Music by Denver Nixon

and Southern Q Food Truck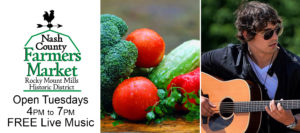 YUUUUUUMMMMM!
The famous Southern Q Food Truck
Grab your friends and family and come on down
Tuesday evening from 4:00 p.m. to 7:00 p.m.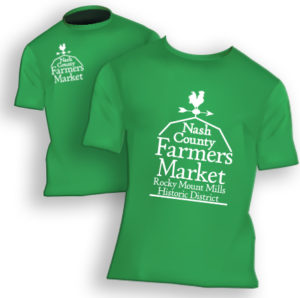 Nash County Farmers Market T-Shirts
NOW AVAILABLE at the Market!
Shirts are being sold by Nash County 4-H Exchange Club as a fund raiser.
By purchasing a shirt you are not only supporting your local Farmers Market but also your Nash County 4-H'ers! 
Saturday, June 22nd
Master Gardener Mini-Clinic
ALL THINGS HERBS
Recipes, tips and tricks for harvesting, cooking and preserving herbs.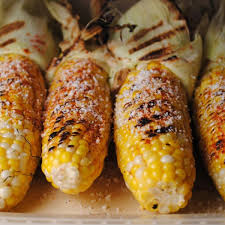 Tuesday, June 25th
FREE ROASTED CORN
Corn Donated by HS Howell Farms
Prepared by and served by the
Nash County FFA Members
The Nash County Farmers Market features local produce, homemade foods, handmade crafts, and more! Visit us on Facebook – Farmers Market Rocky Mount
or call N.C. Cooperative Extension, Nash County Center at 252.459.9810 for more information.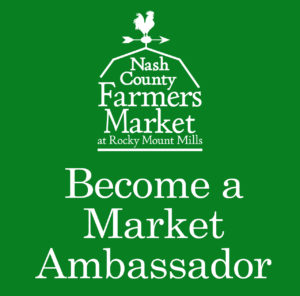 Become a  Market Ambassador

Check out everything that's been happening at the Market this year! Watch Video
Keep up-to-date on what's happening at the Farmers Market by signing up today for our weekly email. Contact Barbara_Monk@ncsu.edu.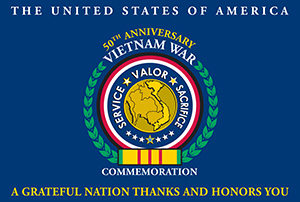 The Farmers Market is a Commemorative Partner with
The United States of America Vietnam War Commemoration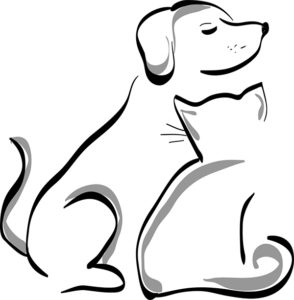 Due to public health and safety issues, and the FDA ruling, live animals are prohibited inside the Nash County Farmers Market. Registered service animals are exempt.