Voluntary Agricultural District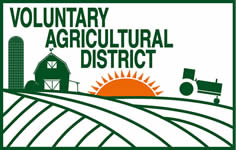 Nash County gives residents the best of both worlds – we can buy groceries, shop for new shoes, or grab a movie in less than a five mile radius from one another. We can also enjoy the beauty of peaceful nights, wildlife, and dirt roads on the rural side of the county. Voluntary Agricultural Districts are also located in the rural parts of the county.
Nash County is home to more than 180 Agricultural Districts. Signs posted around the county represent different agriculture communities that are near and more than likely active this time of year. Farming, horticulture, and forestry are all part of the agricultural districts. If you are a new resident in one of the districts you may be informed of the territory prior to moving into the area. Throughout these agriculture districts you may see slow moving farm equipment on the roads in between fields or a combine harvesting soybeans late at night or you might smell livestock operations if you are downwind from the farm.
Private landowners are encouraged to register their land as an agriculture district either as traditional or enhanced. Traditional Ag Districts may be removed at any time and Enhanced Ag districts must remain as a district for 10 years. Land must have been used for agriculture, horticulture or forestry for 5 years. Agriculture districts are helpful to farmers and agriculture commodities to continue agricultural practices on the land. To apply for a new Voluntary Agricultural District stop by the Cooperative Extension Office located in the Agriculture Center in Nashville to pick up an application. One person may complete the application, but all landowners must sign after approval.