2020 Census – Make Nash Count!
Find this article at:
go.ncsu.edu/readext?654535
Do Your Part to Make Nash Count!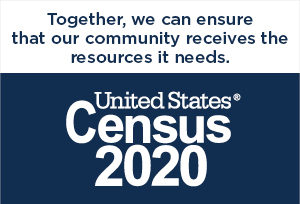 Learn more at 2020 Census.
Click here to learn how easy and quick it is to
Respond to the Census
Importance of the Data
The 2020 Census will determine congressional representation, inform hundreds of billions in federal funding, and provide data that will impact communities for the next decade.
The 2020 Census will provide a snapshot of our nation—who we are, where we live, and so much more.
The results of this once-a-decade count determine the number of seats each state has in the House of Representatives. They are also used to draw congressional and state legislative districts.
Over the next decade, lawmakers, business owners, and many others will use 2020 Census data to make critical decisions. The results will show where communities need new schools, new clinics, new roads, and more services for families, older adults, and children.
The results will also inform how hundreds of billions of dollars in federal funding are allocated to more than 100 programs, including Medicaid, Head Start, block grants for community mental health services, and the Supplemental Nutrition Assistance Program, also known as SNAP
Redistricting
The U.S. Constitution mandates that the country count its population once every 10 years. The results are used to adjust or redraw electoral districts, based on where populations have increased or decreased.
State legislatures or independent bipartisan commissions are responsible for redrawing congressional districts. The U.S. Census Bureau provides states with population counts for this purpose.
Federal Funding
The results of the 2020 Census will inform decisions about allocating hundreds of billions of dollars in federal funding to communities across the country—for hospitals, fire departments, school lunch programs, and other critical programs and services.
Learn more about how census results can have an impact on your community.
Business Decisions
The 2020 Census will be valuable to businesses, as the results will provide a rich set of data on the communities they serve, including population trends and growth projections.
Business owners rely on census results to make decisions, such as where to open new stores, restaurants, factories, or offices, where to expand operations, where to recruit employees, and which products and services to offer.
Impact in Your Community
School lunches. Plans for highways. Support for firefighters and families in need. Census results affect your community every day.
Shaping Your Future
The results of the 2020 Census will help determine how hundreds of billions of dollars in federal funding flow into communities every year for the next decade. That funding shapes many different aspects of every community, no matter the size, no matter the location.
Think of your morning commute: Census results influence highway planning and construction, as well as grants for buses, subways, and other public transit systems.
Or think of your local schools: Census results help determine how money is allocated for the Head Start program and for grants that support teachers and special education.
The list goes on, including programs to support rural areas, to restore wildlife, to prevent child abuse, to prepare for wildfires, and to provide housing assistance for older adults.
DID YOU KNOW… Census results affect planning and funding for employment and training—including programs for vocational rehabilitation state grants, dislocated workers, and American Indian and Alaska Native employment and training. The census data helps communities respond to natural disasters and secure funding for hospitals and fire departments?
A few documents for your review . . .
2020 Census – Census and Confidentiality
2020 Census – Counting Young Children
2020 Census – Shape Our Children's Future