2019 Small Farms Week
Deep Roots, Bright Futures
The 33rd Annual Small Farms Week hosted by N.C. Cooperative Extension at N.C. Agricultural and Technical (A&T) State University, is scheduled for March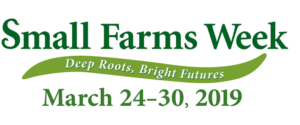 24 – 30, 2019. The event kicks off the morning of March 25 in Robeson County, home of the 2018 Small Farmer of the Year, where the highlights include a panel discussion and presentation on the significance of agriculture. The events continues on the N.C. A&T University campus in Greensboro on March 26 and 27 with educational workshops, demonstrations, and presentations. The 2019 Farmer of the Year will be announced at the luncheon on March 27.
To register for 2019 Small Farms Week please complete the online registration form.
For more information about Small Farms Week, please check out the schedule of events below.
*A $30 fee is required for Tuesday and
Wednesday activities. Small farmers who
have registered in advance are exempt.
Registration deadline is March 15.