Paint Your Own Pumpkin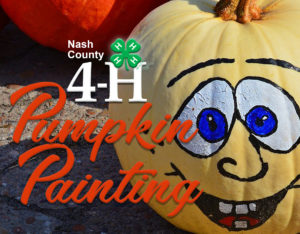 Open to the Community
Saturday, October 27, 2018
at the
Nash County Farmers Market
1006 Peachtree Street in Rocky Mount
9  to 11 a.m.
Sponsored by the Nash County 4-H Youth Development
Designed for ages 5-8 years
In support of the Farm-to-School movement, Nash County 4-H is presenting Paint Your Own Pumpkin event. Carve out some time and bring the kids to join us at the Nash County Farmers Market for this festive event. We'll provide the pumpkins but come early – while supplies last. Rain or shine.
COST: $1 Per Person
For more information CALL 252.459.9810
Farm-to-School is a movement that strives to build a youth's connection to healthy, local food through school gardening, farm field trips, hands-on cooking and nutrition and local sourcing of fresh fruits and vegetables to school cafeterias.