Cucumber Downy Mildew Reported in North Carolina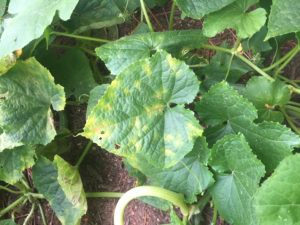 Cucurbit downy mildew (CDM) was confirmed on a cucumber sample from a production field in Sampson County on May 30 of 2018. Leaves presented approximately 5% disease severity, but only 10% of the field was affected.
Growers are recommended to take immediate action to protect cucurbit crops in North Carolina, especially since we are experiencing favorable weather conditions for disease. Cucumbers and melons are generally more susceptible to the disease than squash and pumpkin. The pathogen quickly becomes resistant to fungicides especially in cucumber, thus, tank mixing fungicides specific for downy mildew with a protectant fungicide and alternating modes of action is strongly recommended.
Fungicides are required to control cucurbit downy mildew. Before disease appears apply fungicides at 7-day interval for cucumbers and 10-day intervals for other cucurbits. After disease is detected in your area apply fungicides at 5-day interval for cucumbers and 7-day intervals for other cucurbits. Alternate products and tank mix with mancozeb or chlorothalonil to avoid generating fungicide-resistant strains. For the latest fungicide recommendations for cucurbit downy mildew see the Southeastern US Vegetable Crop Handbook. Fungicide labels are legal documents, always read and follow fungicide labels.
able 1. Example products for cucurbit downy mildew control.
Active ingredient
Example product
Pre-harvest Interval (day)
Fungicide group
Oxathiapiprolin
Orondis Opti A
0
49
Cyazofamid
Ranman 400 SC
0
21
Famoxadone + cymoxanilG
Tanos 50WG
3
11+27
Ametoctradin + dimethomorph
Zampro
0
45+40
Mancozeb + zoxamideG,B
Gavel 75WG
5
M+22
MancozebG
Dithane
5
M
Chlorothalonil
Bravo/Equus/Daconil
0
M
G Can be used in greenhouses, see label for restrictions
R Fungicide resistance reported
B Use only before disease
For example, before disease in cucumber you can use: Tanos + Bravo, alternated with Zampro + Bravo, alternated with Gavel every 7 to 10 days in rotation. After disease you can use: Ranman + Bravo, alternated with Previcur Flex + Bravo, alternated with Orondis Opti A + Bravo every 5 to 7 days in rotation. Using the highest rate labeled for products will result in better control and lower risk of fungicide resistance. Check label for restrictions of number of applications to plan your program.