Summer Canning Series
MORE DATES ADDED!
See Below
Learn to Safely Preserve Your Summer Vegetables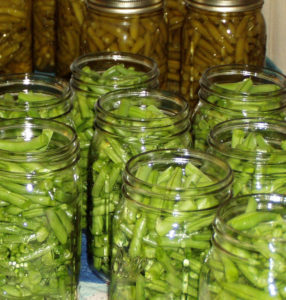 One of the things I love most about summer is the abundance of fresh vegetables. Summer at our house consists of picking the garden and preparing the vegetables for the winter months. Home food preservation is a wonderful way to be able to have a taste of summer during the cold winter months. The key to home food preservation is to make sure you are preserving your foods safely. The Nash County Cooperative Extension Center will be hosting a canning workshop series through the summer. Participants will learn how to safely preserve summer vegetables using a pressure canner. The series will consist of 4 workshops focusing on 4 different vegetables. Participants do not have to attend every class. They can pick the ones they are most interested in attending.
The cost to attend is $10.00 per workshop and will cover everything you'll need for each class. Space is limited so register early. Classes will begin at 5:30 p.m. and be held at the Nash County Cooperative Extension Ag Center 1006 Eastern Avenue, Room 102 in Nashville. For more information and to register please contact Regina Moseley, Family & Consumer Sciences Agent at 252-459-9810 or Regina_Moseley@ncsu.edu.
Space is limited so register early!
Canning Workshop Series
GREEN BEANS
FULL – Thursday, June 14th – 5:30 p.m. to 8:30 p.m.
JUST ADDED – Tuesday, June 19th – 9:00 a.m. to 12 noon
SQUASH
FULL – Thursday, June 21st – 5:30 p.m. to 8:30 p.m.
JUST ADDED – Thursday, June 28th – 2:00 p.m. to 5:00 p.m.
TOMATOES
FULL – Tuesday, July 17th – 5:30 p.m. to 8:30 p.m.
JUST ADDED – Wednesday, July 18th – 9:00 a.m. to 12 noon
SWEET POTATOES
Thursday, August 2 – Sweet Potatoes – 5:30 p.m. to 8:30 p.m.
JUST ADDED – Wednesday, August 1st – 9:00 a.m. to 12 noon