Festival of Tables – Nov 30th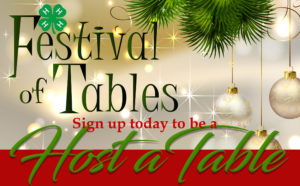 Mark Your Calendar
Friday, November 30th
Sign Up and Host a Table!
The Nash County Third Annual 4-H Annual Festival of Tables will be filled with some of the most beautiful and fabulously decorated tables you'll ever see. This is a wonderful way to kick-off the holiday season with family, friends and colleagues. Everyone will enjoy a very merry and festive evening filled with . . .
   Live Holiday Music   l   Catered Dinner
Photo Booth   l   Door Prizes   l   Silent Raffle
Table Viewing from 5:30 to 6:15 p.m.     l    Seating at 6:15 p.m.
Program will begin at 6:30 p.m.     l    Dinner will be served at 7:00 p.m.
Flyer and Host Information
FT 2018 HOST GUIDELINES PACKET
For More Details Call 252.459.9810